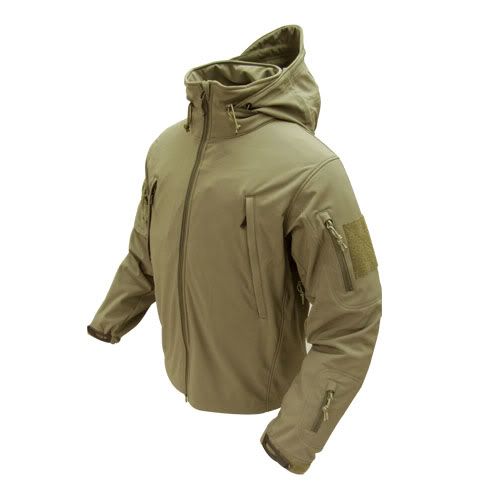 These were GREAT sellers when they first came out, but spotty availability from Condor in 2012 meant that we didn't offer them. Well, we decided to get in front of the rush for these jackets early this year, and have a nice shipment available! We brought them in the following colors:
--OD Green;
--Coyote Tan;
--Black;
--MULTICAM;
The Summit Soft Shell jacket has received lots of positive reviews for offering a lot of features for the money. They are highly water resistant, keep out the wind, and are well laid out for carrying daily items. They also have a built in hood at the collar for appropriate weather conditions. Bottom line, they are a great value and will keep you warm down to temps as low as the 20s.
Price is $86.00 SHIPPED to your door in the lower 48 states for the
SOLID
colors. Unfortunately, you'll need to add $70.00 for Multicam, but that is still a smokin' price for a Multicam jacket these days. These go quickly and I am doing my best to keep updates in real time, but inventory varies from day to day. Like I mentioned above, these jackets are VERY popular & go on backorder quickly.
One thing to remember with sizing, the rule of thumb is to go up ONE SIZE than you normally wear. I'm a big guy (6', 245 lbs, beer gut, 52" chest with big shoulders) and while I can fit within an XL, the XXL fits much better & there's no worry of me playing the Chris Farley & fat guy in a little coat routine...
Here is a direct link to the jacket:
Delta Outdoorsman - Condor Outdoor Summit Soft Shell Jacket (Powered by CubeCart)
Thanks for looking & please ask if you have questions. We are an authorized Condor dealer & these are not blemishes or "gray" market items.
Ceylon
deltaoutdoorsman.com
(901)334-6808