Wife got me this Native Lightweight with the Earth Brown FRN linerless handles with a CTS-XHP blade for Valentines Day. Let me tell you the woman knows what her man likes....
This is a limited run for a big online knife distributor (Knife Center in Fredericksburg, VA) that just happens to be semi-local to us.
I own a number of Spyderco's and am a HUGE fan of their knives for daily carry..... I'm really excited to have a US made Spyderco in my collection - One made from a Carpenter Steel at that.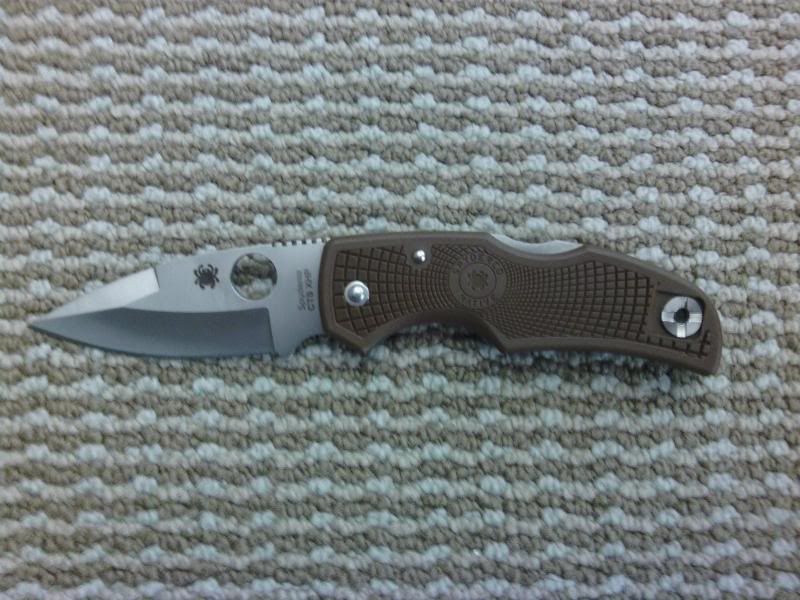 Sorry for the crappy pic.... I just snapped it here on the carpet at work with my phone.
I am surprised at how roughly finished some of the parts are for a US made Spyderco.
The locking bar has a machine mark off to one side that runs the entire length of the spine.
The blade itself is superbly finished except behind the finger groove (up inside the handle).... kinda ruff looking grind marks... you'll never touch them or see them unless you look but they are still there.
Blade locks up tight and it is super lightweight. I haven't cut anything with it yet but it's shaving sharp right out of the box. The factory grind/edge is pretty decent but is tapering a little uneven/thinner on the left side back towards the choil.
When close the blade sits slightly off center to the left in the handle...
I guess you can pick apart anything no matter how nice.... I never really looked at this stuff very hard before I saw a posters thread on his disapointment with certain Spydercos.... Until now I daily carry a Spyderco Dragonfly (all stainless, full serated blade) and it's slightly better in reguard to the things I have noticed wrong with this Native. Non of the faults I listed will effect the useage or performance of the knife so I intend to enjoy, carry and use it as is.
Will