10mm: A larger and faster round, with similar bullet weight (sometimes heavier if 200gr+ ammo) compared to .40. In average ccw sized guns (say 4" barrel or less), the ballistics can be strikingly similar compared to .40, but generally more penetration and expansion. Also, more RECOIL, and potentially MUZZLE FLASH in general. This means harder to shoot, slower follow-up shots, more chance of flinching, higher risk of a complete miss, etc., compared to .40. Generally, increased risk of over penetration compared to .40. Also can make a slightly heavier ccw setup than a .40 setup, due to slightly heavier guns and ammo.This definitely packs a wallop, more than .40 generally can, but at a COST.
Example: Glock 29 (Standard mag capacity of 10 rounds/3.78" Barrel).
*Results from Glock 29/3.78" Barrel)*
Ammo: 180gr Buffalo Bore JHP @ 1269 FPS/644 Ft-Lbs Energy (5-Shot Avg). 18.36" Penetration/0.7" Expansion (5-shot avg).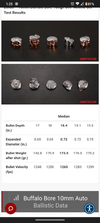 .40: Very similar to 10mm, but generally less power (ft-lbs energy), expansion (similar in a lot of cases), penetration (this is where 10mm has the most notable advantage over .40 in my opinion, possibly even to a fault, i.e.10mm edging a little too close for comfort into over penetration risk territory), and LESS RECOIL and LESS MUZZLE FLASH, in general. Likely to come in a lighter ccw package than 10mm due to gun and bullet weight.
Generally, it's easier to shoot, offers quicker follow up shots, less muzzle flash, basically makes it easier to achieve good shot placement, less risk of over penetration, and a very proven round. Let's not forget how capable of a round .40 is, with loads getting more expansion and penetration than the BEST 9mm loads. A 0.67" hole on the deeper side of FBI penetration standards (15"+)? Ask yourself, realistically, how much more do you really need?
Example (s): Glock 23 (Standard mag capacity of 13 rounds/4.02" Barrel).
Smith and Wesson M&P40c (Standard mag capacity of 10 rounds/3.5" Barrel).
Ammo:
*Results from M&P40c/3.5" Barrel*
180gr Winchester Defender Bonded JHP @ 979 FPS/383 Ft-Lbs Energy (5-shot avg). 17.02" Penetration/0.67" Expansion (5-shot avg).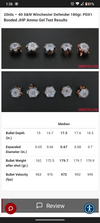 In conclusion, the main disadvantages of 10mm compared to .40, and why, in my opinion, 10mm is not better for the VAST majority of people for ccw/self-defense against humans, is....
- Higher chance of over penetration compared to .40. I guess this is why 10mm is highly routed for use against animals, but this goes away from the focus of this thread, which is humans.
- In general, more recoil, muzzle flash, and noise than .40. In an average ccw sized package, 10mm ammo self defense ammo seems downright obnoxious. And the more you lessen the power of a normal 10mm load, guess what cartridge it's becoming more and more like... If one can "handle" 10mm, especially in a ccw sized package, how much better a .40?
- More chance to completely MISS, compared to .40!
(In my opinion) When it comes to defending against humans, 10mm makes for an unnecessarily obnoxious ccw/self-defense platform when compared to the .40. Also, it seems to border the power/penetration limits for safe usage in ccw/self-defense situations, against other people, to unnecessary limits.
Last edited: