Joined

Jun 5, 2013
Messages

11,208
Location
I have a few S&W revolvers, and I have wanted a 10-shot 6" Model 617 for a while, so I bought one last month and picked it up when I got back from my trip.
The gun itself looks good, the fit and finish is nice and I had an extra set of Thai grips to replace the OEM synthetic ones. With 10 chambers, and S&W revolvers being known for sticky extraction at times, I honed the chambers with a 800 grit flex hone. Rounds drop in and eject with ease.

My issue is the DA trigger pull. I didn't expect it to match my often fired and long broken-in rimfire Models 17-3 or 48-3, but the gun doesn't even come close to my newer 6-shot Model 48 Classic 4". It was gritty, stacky and heavy out of the box, in short, Taurus-bad. (I have a Taurus 94 and 941 to compare it to.)
I pulled the side plate, polished the rough sides of the rebound slide and the area where the slide moves, installed a 14# rebound spring and lubed the action insides and the cylinder innards. The pull is better (smoother and a bit lighter), but still has a "mega-stack" that pops up like a brick wall during the middle of the DA stroke. This makes accurate DA shooting very tough.
Since it's a rimfire I did not want to put in a lighter mainspring, as it has been 100% until a lemon round wouldn't fire today (Win 333 bulk pack HP. I hit it 4 times in 3 spots, still no bang!).

I put 250 rounds of various .22 LR through it today, but in slow DA it was tough to keep in the black at 10 yards. This is my first 10-shot S&W, is this DA trigger stroke "wall" a common feature of these higher capacity rimfire revolvers, or does this gun just need time and use to break in and smooth out so it gets close to my six-shot S&W's? (I will measure the DA/SA pulls tomorrow, I forgot to tonight before posting.)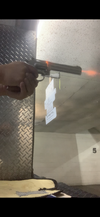 Thanks for any ideas.
Stay safe.
Last edited: