I recently received an EPL4 6-24x50 (Troy took a look at this one before sending to me so perhaps he can offer his opinion as well) and now have it mounted on my 7PRC.
This gives me an SH4 6-24x50, the EPL4 6-24x50, and an EP5 5-25x56, all mounted on fairly similar rifles (Savage 300PRC, Mesa LR 28 Nosler, Patriot 7PRC).
Over the next while (Im expecting to probably take a month or two) Ill try to get out and make an objective comparison of all three models in use. Ill also compare them to other similar scopes I have on hand.
I do need to pick up a camera that takes more representative pictures thru the scopes. Ive been using my phone for that kinda stuff to date, and the images come out generic. I dont have any BAD scopes, but there are noticeable differences between them all, and the pictures taken with my phone dont show them as well as id like (and honestly it makes the good ones look less impressive).
My general impressions thus far.
The SH4 and EP5 are of a similar build/sturdiness. Controls feel similar, tubes seem dense, turrets super clicky and crisp. Both feel like VERY solid scopes.
The EPL4 has smaller turrets but similar sized eye pieces, power rings, and objective (to the sh4 50mm). Its tube FEELs much thinner than the other two scopes, and while still very crisp both turrets feel a little less so than the others. While mounting the EPL i managed to bend the tube enough with the Sig rings i was using that I could feel it in the Parallax adjustment. after remounting in a different set of rings everything ran smoothly and it doesn't seem to have caused any damage to the optic.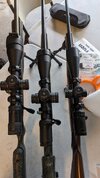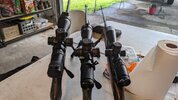 In terms of functions, everything moves the way it should on all three, with the EPL4 having a smoother Parallax knob than the other two, and a stiffer power ring.
Optically the SH4 lags behind the other two in clarity and resolution. Which IS to be expected considering the much lower price. Its still a very useable scope, but its not a really NICE scope.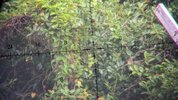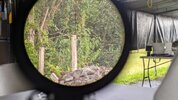 The Ep5 has good clarity and resolution. Its optically at least as good as it price point, the only real issue i have with the Ep5 is that its eye box is pretty tight. This scope IS mounted on a rifle with a 20moa rail and is sighted at 100yds which puts the scope lower in its adjustment range than the other two. (all the images i took thru the Ep5 were of noticeably lesser quality than when view thru the scope. Ill try to get better pictures)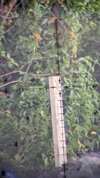 The EPL4 is the optical standout for me in my limited experience. Its clear, bright, and the image is as sharp as the EP5 for less money and with less weight. It also focuses down to a shorter distance.
If your not in need of the heavier body, and crisper turrets of the EP5, the EPL is probably worth a hard look.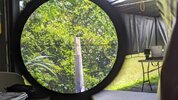 (camera is zoom is set at 4x, this as close to what you actually see thru the scope as my phone can get, and this is really the only picture that came out even somewhat close)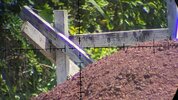 The Reticle options for all three are graduated in even segments. The SH and EPL are both MOA, the EP5 is Mil. I find all three reticles a little fine for use in dark conditions, or on dark targets in lower light conditions, without the illumination on. This isnt horribly unusual for me, ALL of the FFP scopes ive played with have annoyed me at the lowest powers unless they had an illumination.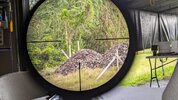 Ill get better low power pictures also.
For reference, this is what my Meopta MeoPro HTR looks like when the image is taken with my phone......this scope is the best ive got.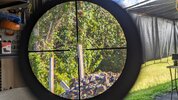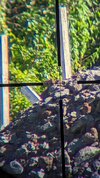 Ill add to this thread as I have more time to work with these optics and come up with a better way to get pictures.
Last edited: