Joined

Feb 25, 2003
Messages

133
Been waiting for one of these for a few months and it finally arrived. Concealed hammer DAO, chambered in .32 H&R Mag, a 6-shot. Fully loaded, it's 15-7/8 ounces. Lockup is tight, trigger pull surprisingly good!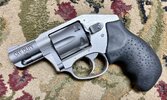 Only had time to fire 100 rounds at a 7 yard range. Initial 12-round DAO group was under 2", POI about 1.5" low with 85 grain JHP. That would be fine for self-defense out to at least 50 feet, but I prefer more precision, so filed the front sight down slightly until POI with all loads was within a 2" circle at 7 yards. Final 5-shot groups were quite good at 7 yards, under 1". Best shooting loads were 115 grain FPL handloads. I hope to be able to get outside for longer distance shooting later this week.

The pebble grips are some of the best ever offered by Charter for these guns. They have great texture, a soft feel for recoil absorption, contoured palm swells and exposed backstrap to fit all hand sizes. I did want a slicker and smaller grip for pocket carry however, so added a set of aftermarket stocks.
Quite pleased with this revolver. Compact, lightweight and low recoiling. Sad that the current ammo situation makes .32 H&R Mag factory fodder scarce and expensive. Glad I reload.