Joined

Jun 4, 2010
Messages

951
Location
I was recently working on a 10/22 for a friend. He was having some feeding issues with it and I told him I'd be happy to take a look.
In the end, I diagnosed the gun to just be in need of a thorough cleaning (which I did, and it cleared the issue). What alarmed me most though was this: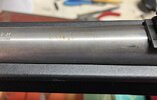 I brought it to his attention and asked how he stores it. He said he just keeps it in a gun sleeve and leaves it in his closet. He doesn't shoot it very often, and doesn't really clean or oil it.
I explained that storing it this way is a big no no; how storing a gun in a sleeve straight from the range will inevitably trap moisture and create a recipe for rust.
Folks often tend to think that stainless steel is somehow impervious to rust. It's not. All basic maintenance considerations still apply. With enough neglect, stainless will rust just like everything else.
This has been a public service reminder!