Joined

Jun 5, 2013
Messages

11,208
Location
On Friday, I used my 2" new model Colt Cobra to shoot the last box of my suspect DEWC loads. (These caused me concern when I had one round with a light charge stick a bullet 5" down the barrel of my vintage 6" Colt target revolver.) All 50 fired just fine, so now I can process the brass and reload with confidence increased using the new RCBS powder measure I bought.
Anyway, I was shooting the Cobra at 15 yards DA on some B-29 knock off targets, and when I saw the 24 shot group that resulted I was pretty darn happy. The shots all were a bit high, as I tried to hold the bottom of red center X ring right on top on my front sight post, but the shots were centered. (I make no claim to be a bullseye shooter, those guys are amazing!)
I started thinking how nice it would be if Colt made a 4" version of this gun; matte stainless, 4" lightweight profile barrel, FO front sight and either a fully adjustable rear or a drift-adjustable Novak type fixed rear sight, in .38 Special that's +P rated, use the same grips and trigger action, etc.
With the cost, size and weight of their King Cobra and Pythons, IMHO a lower cost, smaller and lighter weight option from Colt would be pretty darn cool.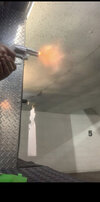 Anyone else have an idea for some sort of new revolver like this pop up while shooting?
Stay safe.
Last edited: