Joined

Apr 29, 2003
Messages

2,056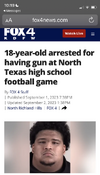 Pretend he is charging at you with a machete. Pretend that your absolutely perfect, 124 gr. 9mm hollow point, that meets all the requirements of the FBI protocol and, penetrates 14-17" in calibrated ballistic gel, is what you really want.
He's not ballistic gel. He didn't read the performance figures for that $2.00 a round bonded, striated, absolutely perfectly designed, to meet FBI standards, 9mm bullet.
His neck is bigger than my thighs.
I'll take a .357 Magnum Hard Cast 158 gr Flat point. Thanks.
Last edited: