Joined

Nov 12, 2018
Messages

3,315
There have been certain days in my life when my interest in firearms has been so stimulated by my surroundings that I was able to completely forget my woes and live entirely in the moment. The last time this happened was at a small local museum in the early 1990s, when a friend and I volunteered for a few days as amateur experts to curate a surprisingly good firearm collection. Today was another one.
I was invited along to help organize, identify and facilitate the sale of a gun enthusiast's rather substantial estate. We counted a total of 65 ammo cans filled with ammunition and handloading components (including approximately 1K lbs of lead ingots) 82 lbs. of propellent (mostly in 8 lb. jugs), NIB ammunition including rimfire and some vintage factory stuff in 10 boxes and bins, 20+ long arms and 35+ handguns.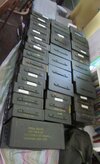 There are two layers of cans in this photo BTW, with another mountain of cans off to the left of the photo.
Here's about 1/3rd of the handguns:


I couldn't take many photos in situ due to poor lighting and just having both hands full (my friend and I went through this stuff for six hours), but we spotted some real gems in the collection. Unfortunately most of the milsurp longarms had been sold decades earlier during a divorce. The bulk of the remaining long guns were sporting arms, with an emphasis on Browning and Remington products. Among other things, there were two beautiful Winchester pump-action .22s (a 1890 in 22 Short and a 62), two Browning Auto 5s (one Belgian and one Miroku), a really clean Parker boxlock SxS, a like-new 1900 American Eagle Luger, a very good Radom Vis with all levers present, the cleanest Russian Nagant revolver I have ever seen (very tempting!), a decent Gen 2 or 3 Colt SSA in .357 Magnum, two beautiful Hi-Powers (I'll buy one if I can afford it) and a bunch of S&W revolvers with a few Colts for variety. Also a very clean Persian Mauser 98 long rifle (we negotiated a price and I'm definitely buying that one!) and a sadly sporterized Type 38 in .257 Bob with an intact mum that almost brought unhappy tears to my eyes. Tens of thousands of primers, and quantities of brass and bullets.
There were also a half-dozen nice pieces the executor is keeping, including a Nazi-marked PP, a couple of S&W N frames and beautiful Winchester 1895 in 30-06.
I put together a box of stuff for myself ($605) that included the following:

If you look closely, there's a full Norma factory box of 7.5 Swedish Nagant revolver ammo. I own two of those revolvers, BTW. The ziplocks contain 17 Garand en bloc clips. There's a total of 600 rounds of 9x19, 150 of .32 ACP, 40 each of .303 British and 7.92x57 Mauser, an additional box of Norma .303 brass, 100 rounds of CCI .22 Short and a vintage box of Remington .30 Luger. Hiding in the back are three case gauges.
The can below of .303 British unfired brass (R-P) and clips was thrown in free for my trouble by the executor.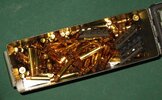 The two boxes contain a Dremel tool and a bunch of burrs. There's an Ideal tong tool in 25-20, a case of Hoppes No.9, a still-in-wrapper Lee Enfield No.4 buttstock, and a USA-made Vise grip pliers. Along with these books, the box also included 4 lbs. of Unique in an 8 lb. jug.

On top of everything else, we got treated to pizza!
Most of the guns will probably go to Lock, Stock & Barrel for auctioning, and what's left of the ammo and components after we've contacted the old boy network here will probably be sold in small lots through either an LGS or gunshow.
Man, I am tired but happy this evening.
Last edited: