Joined

Dec 24, 2002
Messages

9,039
Location
Today after work I picked up my latest acquisition: a 1932 Colt Shooting Master in .38 Special. This is one of 3,500 Shooting Masters built by Colt from 1931 through 1938 and was the most expensive model in their line, at $52.50 (about $1138 today). Of them, 2,500 were chambered in .38 Special. The gun is basically the same as a New Service Target but with a slightly different, smaller grip.
Next to my S&W Model 1905, 4th Change Target K-Frame for scale: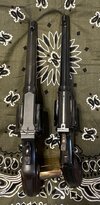 The front and rear grip straps are hand checkered. Note the size of the cylinder in comparison with the charge holes, reminiscent of a S&W N-Frame .357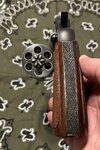 The back of the grip, top of the hammer, and the top strap all have a matte finish to reduce glare.
I happened to have an old Pachmayr size 6M grip adapter in my stash. IIRC the size 4S is correct for the New Service but this is close enough.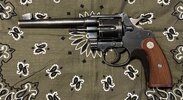 I'm not sure if the grips are original since they look brand spanking new and are not serial numbered (I don't know if they
should
be serial numbered to the gun, however).
Also, the screws on the adjustable front sight are hex heads. Allen screws were invented around 1909 - 1910 so it's possible they are original but I don't know for sure. (The front sight adjusts for elevation while the rear is adjustable for windage.)
Mechanically the gun is perfect. The bore and chambers are all excellent. Timing and lockup are spot on. The SA trigger is very light with no creep or takeup. The DA pull is very smooth but long and heavy. As a target revolver this was intended to be shot SA anyway. For DA, the trigger reach is noticeably longer than an N-Frame.
The New Service / Shooting Master (and the smaller Official Police) were rated by Colt to handle the .38-44 High Speed loads intended for the S&W Heavy Duty and Outdoorsman (158 grain bullet at 1,125 FPS). I don't plan to shoot a lot of those but I will definitely give some a try.
I can't wait to shoot this next weekend.